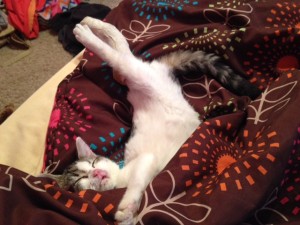 I got the call…"Dad?…" Long story short, there is a kitten that's in recovery and doing well. Her Achilles tendon was repaired and some suturing was done in the mouth area. Now we need to find a home for this young female cat. She's VERY affectionate. Super sweet, and we wish we could keep her, but our traveling around does not allow for that. We have a few days and that's it.
We call her Chloe. She was found on Old Robinson Rd. She had a purple flea collar on and looked very hungry. After about a week of hanging around the Forster's house, she was found injured. That's when my daughter called. Dr. Nabors said it looked like the cat had been caught up inside a car.
Chloe is doing great, and she simply needs to keep her low profile cast on for 7 more weeks. She is happy just laying around. She doesn't meow much at all. She loves attention, but is not annoying. She has an antibiotic to be given by mouth once a day. She's otherwise very healthy and again, very well mannered. A perfect pet.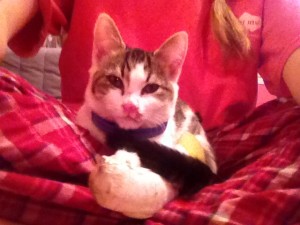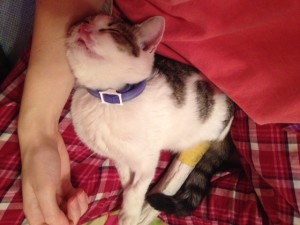 Please Call 662-773-4370 or 662-773-3700 to give this kitty a perfect home.
{ 0 comments }